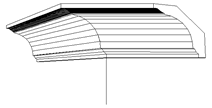 Cove Moldings
Cove moldings are used where walls and ceiling meet. They have a concave profile, and for this reason, they are often used as inside corner guards, or to hide joints.
Cove molding profiles are measured by the width, and then by the length of the profile.
Cove molding can also be used as a transition to a mantle or a shelf, or even in conjuction with other moldings for a "compound" molding.
Listed next in our catalog are a few of the crown molding profiles that we can make, but it is important to note that we can make virtually any custom profile.
---
This is just a sample of Cove Molding profiles, so if you don't see what you're looking for, please contact us